Sinkholes Still Prefer Cars to People
By: Erez Kanaan, Tow Squad News. Published on:
Subscribe in a reader
Solution More Often a Tow,
Not A Doctor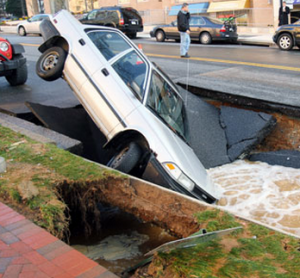 TOMBSTONE, Ariz  l  The collapse of a Florida sinkhole earlier this year that killed a Tampa man drew significant media attention, even prompting news reports of a so-called 'Sinkhole Season' in some areas. More incidents quickly cropped up, including a golfer swallowed while playing in Waterloo, Iowa and a duck pond that disappeared overnight near Hershey, Pennsylvania.
While sinkholes are sometimes a naturally-occurring event, most frequently they are caused, directly or indirectly, from man. Most often the issue is one of above-ground weight, compromising the ground's surface structure.
And while they have been known to swallow large, heavy appliances such as refrigerators or farming equipment, by far their most-favored target remains the automobile.
Most likely, if someone needs help due to a sinkhole, it is the tow truck driver who will get that call.
"It freaked me out," said driver Darrell Sawyer, who was caught off guard in traffic last week.
"You could hear the ground falling," he told the Leader-Post, "then you could hear the steel from my truck and just, Boom!" 
In Regina, just across the Canadian border with North Dakota, a 4-ft hole had opened up beneath the asphalt under Sawyer's truck. When he escaped the cab, Sawyer discovered the back half of his vehicle dipping into a 4-ft. hole filled with muddy water.
If a sinkhole is filled with water, it usually points to a common suspect: a water main break.  
"It sank all the way up to the axle," said Sawyer, who was close enough to where he lived to run home and call for help. "Even if I had four-wheel drive, there was no way I was pulling it out because the wheels were completely buried"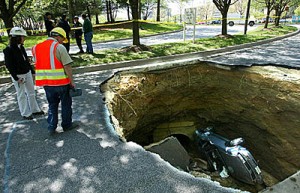 The recovery took more than an hour as police closed the road and the winch work got underway. Naturally the chief concern in such a situation is that the surrounding ground has also been compromised, threatening to turn a recovery effort into a rescue scene.
"I can't imagine if it had been a little car," said neighbor Leanne Kramer, suggesting it might have been swallowed whole.
In fact, a smaller car might not have caused the collapse. It is, most frequently, weightier loads that compromise the ground structure. As such, one particular type vehicle that is frequently snagged: the moving van.
Just last month in Tombstone, Arizona, a young couple arrived at their new home with belongings loaded up in the back of their truck. Suddenly they found themselves calling a tow service after the rear wheels of the vehicle began sinking under their own weight.
The idea of sinkhole season, however, is dismissed by the experts.
"I don't believe we're having any more today that we've had before," said geoligist Randall Orndorff. "They happen all the time."
While there is no real practical way to avoid or prevent sinkholes, most often they serve as only minor inconveniences, if even that.  What they do most frequently generate is revenue for towing companies tasked with recovering something swallowed up by the earth itself.
 
__________________________________________
Want to share your own story?
Contact Us
or call 888-603-2599.