OK: Owner Shoots Intruder At Shop
By: , Tow Squad News. Published on:
Subscribe in a reader
Sleeping On-Site Following Break-Ins

TULSA  l  The owner of an Oklahoma towing company shot a suspected burglar during an apparent break-in last week at his shop in Muskogee, just south of Tulsa.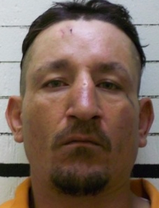 Dale Ford had been sleeping in his office at Fast Wrecker off-and-on in recent weeks following a string of late night thefts at his tow yard. He says he was suddenly awakened by the sound of a door being kicked in early Friday morning. 
"I caught a burglar in my shop," Ford can be heard telling the 911 operator. "He says I hit him in the arm. It's just a .22."
Police dispatch remained on the line with Ford as he kept his gun drawn on the injured man with police in route.
"I've got a gun on him," Ford continues on the tape. "He's here in my shop."
Police soon arrived, taking a statement from Ford and securing transport of the suspect to an area emergency room.
Later identified as Joseph Lee Carpenter, he has an extensive local criminal record dating back to at least 1997. Tow Squad News was able to confirm multiple arrests for public intoxication so far in 2013, plus an outstanding failure to appear warrant related to stolen property charges.
The 911 tape begins just seconds after the shooting, with Ford uncertain whether he'd even struck the intruder. In the frantic early moments of the call, a calm but clearly stressed Ford can be heard as he discusses the possibility of another perpatrator still being on site.
"Is there anybody else there with him?" the 911 operator asks.
"He said he was in here looking for his brother" Ford said. "I think he's just storytelling."
On the recording, police can be heard arriving just as Ford is explaining to the operator about his recent break-ins, including one just a week earlier with about $1000 in auto parts stolen from the shop. 
According to Muskogee Police Lt. Bobby Lee, the matter will be turned over to the district attorneys office following a full investigation.
__________________________________________
Want to share your own story?
Contact Us
or call 888-603-2599.
Get More of the Latest in Towing News...