NYPD Heavy Duty on No Parking
By: , Tow Squad News. Published on:
Subscribe in a reader
Violators Rely on Sizable Inconvenience 
BROOKLYN  I  The New York City Police Department has followed through with a threat to tow away illegally parked 18-wheel trucks last week, using the department's own heavy rescue equipment in the first sweep.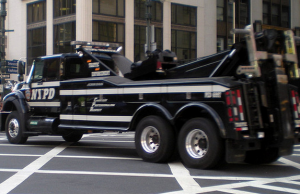 What started as a nuisance in the 63rd precinct soon became an issue of safety after complaints started pouring in from the surrounding neighborhoods. Unauthorized semis were lining up along Avenues U and V, and in several other non-parking areas leading up to Marine Park.
The problem had become so consistent that a local group offered a $1000 pledge to the precinct earlier this year to purchase heavy duty wheel boots to snar violators.
"They're willing to accept a ticket for illegal parking because it's cheaper than parking in a commercial garage," said Sol Needles, speaking with The Brooklyn Daily.  He heads the group that raised the money, saying the current methods weren't working.
Frequently truck drivers can rely on a vehicle of that size not being quickly transported as it presents two large logistical issues: how to move it, and where to put it.
Last week the first two 18-wheelers were hauled away to one the city's sizable tow lots, located at the Brooklyn Navy Yard. The combined cost for towing and storage, plus the fine, comes to a reported $780 for each driver.  
One of the drivers was described as repeat offender, according to a police source.
"The one on Avenue U has been there for ever," the paper's source revealed. "Hopefully they'll get the message. Worse comes to worst, we have to do it again."
"And we will," he added.