MatJack Lifting Bags Are Rescue-Ready
By: , Tow Squad News. Published on:
Subscribe in a reader
Indy-based Firm Provides High-Pressure Air Options
INDIANAPOLIS   I  In recovery work, some scenes present unique challenges that aren't immediately solved with the old hook and winch.  Some sites require a more versitile, even craftier means of moving tons of material safely.  For some of the heaviest of heavy rescue, sometimes it's a struggle just to get proper positioning.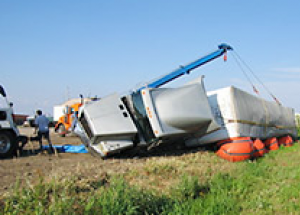 The team at Matjack in Indianapolis has been incorporating high pressure air inflation into real world rescue and recovery solutions since 1981.  With the motto, 'When Failure Isn't An Option,' they bring a unique set of tools to the table that can be both timesaving and lifesaving.
The Matjack high pressure air lifting bag require only 1″ clearance and can lift several tons with the touch of a button. Primarily they are used in low insertion situations with heavy weights needing to be lifted such as vehicles, toppled rigs, even entire structures. 
The basic kit inclues the individual bag, the air pressure control, a supply hose and a carrying case.  It proves a remarkably simple and easy to transport system. They have become welcome additions at large construction sites, and among fire and rescue personel.  They are also becoming more standard in the field of house transports.
All of their bags have a distintive red bull's eye designed to take the guesswork out of centering it into proper placement for the load.  The bags have a conical, interlocking surface to limit slippage and aid in stacking.
Their innovative 'deadman controller' allows an operator independent or simultaneous control of one or more airbags in a central location. The designers also color-coded the wiring between bag units to eliminate confusion on larger job sites.
The units are manufactured in the U.S. near the small plant where the business began three decades ago.  Now they distribute their systems worldwide.  Matjack's are ISO and CE Certified and carry a 5-year unconditional warranty.
Sizes and lift capacities vary, ranging from 1.5 tons all the way up to 86 tons.
__________________________________________
Want to share your own story?
Contact Us
or call 888-603-2599.