Life-size 'Toy' Wrecker Debuts
By: , Tow Squad News. Published on:
Subscribe in a reader
Brad Doane Brings Tonka Toy Design To Life
MINNEAPOLIS   l   In a labor of love that took just over a year, a Minnesota man has built a functioning tow truck based on a miniature and decades-old Tonka toy, The Mighty Wrecker.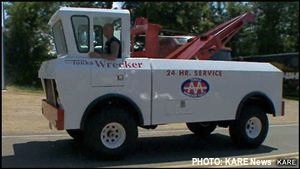 While the rig is operational, technically, its hand crank from the original's design will likely limit it to only the lightest of light duty. It will instead by featured in local parades and on display at the towing outfit where it was conceived.
Irvington Garage Towing in Menomonie, Wisconsin is located about an hour east of Minneapolis, where for 66 years the team has hauled just about everything. Brad Doane grew up around the shop, learning the family business from an early age.
A while back, Brad's mom Lonna came across an unusual charity auction find, an over-sized Tonka tow truck that functioned as a display model for the much smaller toys. Brad, now 40, had grown up with a wide assortment of Tonka and Hotwheels, and she knew he'd love it.
What she didn't expect was that he would turn it into a personal challenge, to replicate the toy on a functional scale.
"You can't mistake what it is," Brad tells KARE-News. "Dang, that looks like a Tonka truck."
Starting with the drivetrain of a 1984 Chevy pickup, Brad turned to welding the new frame based on the specs pulled from the toy. His new design stretches 16-feet long, and stands at 10 feet. The resizing is 16-times larger than its predecessor.
"Everybody can recognize it," Brad said, "and it brings them back to the day when they had a truck — a Tonka truck."
This weekend Brad is set to drive the truck in a parade in Mound, Minnesota. It's an appropriate debut, as Mound is where Tonka Toys began in 1946.
CLICK HERE to see KARE's report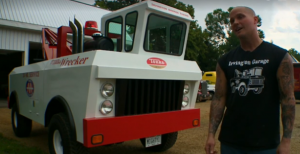 __________________________________________
Want to share your towing news?
Contact Us
or call 888-603-2599.