Blast of Snow Tows Before Spring
By: , Tow Squad News. Published on:
Subscribe in a reader
Drivers May Be Suffering From Snow Fatigue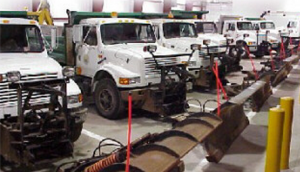 SOMERVILLE, NJ   I   The late Winter blast that hit much of the Midwest and Northeast earlier this week led to several areas announcing regional snow emergency parking restrictions. Perhaps because it came so late in the season, many car owners seemed caught off guard – leading to a higher-than-average recovery rates.
In many communities where snow conditions regularly threaten the normal flow of central traffic, so-called 'snow emergency' parking measures are often put into effect. These usually involve clearing an entire side of street traffic for plow service.
In Somerville, N.J., Monday night brought its promised half foot of snow, as predicted by local weathermen. The city determined earlier that day to initate a snow emergency, and get the word out for people to clear their cars.  Yet by Tuesday morning, over 200 vehicles had been towed for not adhering to the plan.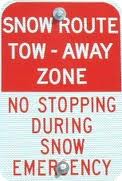 That's a considerable bump from the typical numbers seen, with some blaming snow fatigue for the lack of response. Like war fatigue, where repetition of the same story can drown out its relevance, snow warnings had perhaps become a bit routine.
Five separate snow emergencies have been declared in the area in the past seven weeks, with some car owners perhaps tuning out over false alarms so far this season.  Yet, whether it snows or not, the cars are still required to be relocated to allowed spaces within four hours or face removal.
It's also been speculated that many drivers had presumed the worst of winter to have passed.
That complacency may have contributed to the vehicles ticketed and transported in Somerville Tuesday morning.  The fine is $100, plus towing and storage costs to retrieve the car.
The same pattern of drivers not responding to parking announcements was by no means limited to Somerville, or even New Jersey.
In Racine, Wisconsin over 200 tickets were written with close to 50 cars ordered removed earlier in the week.  Likewise in the Minneapolis-St. Paul area, parking enforcement agents discovered higher-than-average violations after many vehicle owners simply ignored the warnings.
Several smaller communities and even college campuses reported similar spikes in violations.
"Lots of people (are) so ready for spring," one Wisconsin dispatcher suggested to Tow Squad News, "They let themselves believe winter was already gone."
__________________________________________
Want to share your own story?
Contact Us
or call 888-603-2599.