Criminal Charges for Roadside Tragedy
By: , Tow Squad News. Published on:
Subscribe in a reader
Driver Facing 3 Felony Manslaughter Counts 
ELKO, Nev  l  Criminal charges have now been filed following a 2011 accident scene that killed three people, including a tow truck driver working at roadside. The driver who reportedly plowed into the recovery scene is now charged with three felony counts of involuntary manslaughter.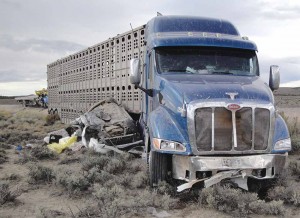 The site of the accident in Elko, Nevada indicated a violent crash, with the driver's speed estimated at over 80mph at the time of collision.
Samuel Wayne Rosenbaum, a Virginia resident who was working as a professional truck driver at the time, could face up to 18 years in prison. An involuntary manslaughter charge in Nevada can carry a maximum of six years.
Rosenbaum is accused of recklessly causing the Oct. 16 accident when his semi slammed into the back of a Buick Skylark hooked up to Jesse John Pengelly's tow truck. The towing operator had just stepped back into his cab when the collision occurred.
Seated in the Skylark were the vehicle's owners, Michael and Marilyn Bogue. They were killed on impact as the semi tore through the disabled vehicle before sheering off the top of the tow truck's cab.
Pengelly was airlifted for emergency care, but died just hours later.
Rosenbaum, along with a female passenger in the cab of his truck, were not injured in the impact.
"There was a tow vehicle with the bed slipped back on it," testified Nevada State Trooper John Boykins. "The top half of the cab had been removed. There was also a white little sedan that was basically rolled up into a little ball."
A data recorder in Rosenbaum's truck indicated the vehicle was traveling at 82 mph just before the impact. The speed limit along that stretch of highway is 70 mph.
Rosenbaum claimed his vehicle began to skid as he approached the scene, and that he attempted to steer away from the other vehicles.
Prosecutors believe he should be held criminally liable, citing his high rate of speed and the fact that he'd exceeded the maximum driving time allowed for operating a commercial vehicle without rest.

Jesse John Pengelly had just earned his diesel mechanic certificate the year before from the College of Southern Idaho. He was an avid athelete and loved the outdoors. He enjoyed hunting, camping and horseback riding.
"He had a smile that could brighten your day," his obituary read, "like the sunshine when it comes up in the morning."
Pengelly was just 20 years old at the time of his death.
__________________________________________
Want to share your own story?
Contact Us
or call 888-603-2599.