Columbus Begins Annual Tow Sweep
By: , Tow Squad News. Published on:
Subscribe in a reader
Hundreds of Violators to Be Hooked & Hauled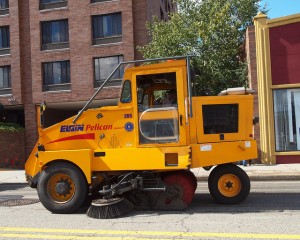 COLUMBUS  l  City-contracted towing operators will be rolling out Monday on a tightly-planned route to clear the way for street sweepers to begin their annual spring cleaning of sorts. Hundreds of vehicles will likely be towed in coming days for parking in the so-called 'Sweep Spots.'
The city currently has 26 sweepers, each paired off with tow trucks that patrol the areas just ahead of the equipment.  Certain key streets are specifically designated for regular sweepings, with permanent signs indicating the restrictions.
Last year in Columbus, the city towed away over 3,300 vehicles for blocking the sweep routes, which was a slight increase from the previous year. According to one published report, nearly a quarter of those were from the annual spring effort.
The tow itself will cost the vehicle's owner roughly $120, plus a $50 fine. The daily storage rate  is capped at $18.
"We don't want to tow people," said city spokesman Rick Tilton, speaking with The Columbus Dispatch. "One of the things we want to do is get this out to ask people to move their cars so it gives a clear way."
According to Tilton, while the main business district gets swept weekly, most other areas only see a sweep truck two or three times a year. The annual spring push is intended to concentrate on the expansive downtown design, which includes the seats of city, county and state government along with the nearby campus of Ohio State University.
For lesser traffic areas, the street sweepers typically work around any errant vehicles except in unusual violations. For the spring sweep, however, a more detailed and determined effort is put forward. That includes getting the word out to local residents about the plan, hoping to encourage better compliance.
Aside from merely improving the capitol's overall appeal, cleaner streets also brings a very practical benefit. Street debris that gets pulled into the sewer systems can cause pollution and backups in waterway management, which can prove much more costly to correct.
More of the latest in Towing News