Anchorage Firm Hit With Viral Campaign
By: , Tow Squad News. Published on:
Subscribe in a reader
Allegedly Installed Signs Just Before Removal
ANCHORAGE  –  A towing outfit in Anchorage is receiving backlash after an online campaign accused employees of installing 'No Parking' signs in new locations right before towing away supposed violation vehicles.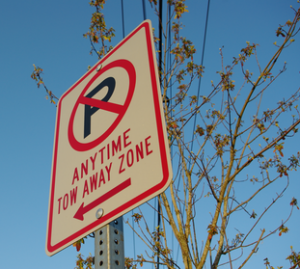 The initial incident that sparked the action was on March 9, a Saturday evening. Local resident Melissa Wolf had parked her black Jeep Liberty in an alley just up from the Brown Bag Sandwich Shop.
According to Wolf, no signs were in place in the alley at the time she and a friend left the vehicle.  Moments later they spotted a tow truck from Anchorage Towing hooking up the Jeep.
"I actually saw my car getting pulled from the spot," Wolf told KTVA-News. "I went over to the driver and said, 'That's my car, can I have it?' and he said, 'Nope, it's too late.'"
At first the online campaign just volleyed between friends and family.  As it spread, however, witnesses to similar practices got involved in the discussion, sharing their experiences with the local towing outfit.
Then a witness came forward who said she saw the employees in question installing the 'No Parking' signs just before hooking up Wolf's Jeep.  The woman named Melissa, who asked her identity be protected, told the local CBS affiliate that she saw one of the men take a photograph of the so-called violation vehicle immediately after the sign was bolted up.
Wolf says one employee was carrying a stack of the same signs, convincing her this was predatory and premeditated.
According to her, the company refused on-the-spot payment, as it wasn't in cash. With her purse locked in the car, Wolf says she was abandoned downtown just before midnight. She would recover the Jeep the next day, paying roughly $400.
That's when she took to Facebook, creating a page that sought out others who'd been taken advantage of by the same company.
According to published reports, Anchorage Towing initially blamed the sandwich shop owners for requesting the removal of Wolf's vehicle.  When contacted for response, shop owners denied ever requesting tows from that location and subsequently filed a police report.  
Wolf plans to seek justice in small claims court.
The sign has been removed.
__________________________________________
Want to share your own story?
Contact Us
or call 888-603-2599.
More of the latest in Towing News