Knoxville Tow Op In Coma Following Assault
By: , Tow Squad News. Published on:
Subscribe in a reader
Attacked From Behind By Driver Over $75, Suspect in Custody
KNOXVILLE, TN – A 48-year old Tennessee tow operator is fighting for his life after being assaulted by a driver on Labor Day Monday.  Ron Gandy of Knoxville remains comatose after he was attacked by a man police have identified as 22-year old Tycorrian Taylor. He is now charged with aggravated assault.
Gandy is a widower and single parent to 16-year old son Jordan. Church members are attempting to help the family through fundraising and support at the hospital.
"I never seen anybody that looked that bad," said pastor David Woods of Blessed Hope Missionary Baptist Church, having visited his parishioner in the critical care unit at UT Medical Center.
The assault occurred as Gandy was hooking up a Lexus at an apartment complex that contracts his services.
Police indicate the vehicle was not authorized to be at the location.
According to Lynn Waller, a co-worker with Gandy, the driver had initially agreed to pay for the service fee.
"When Ron went to fill out the paperwork, is when he attacked him and attempted to retrieve his car," he tells WATE News.
Witnesses say Gandy was attacked from behind.  He later slipped into a coma.
On Thursday police arrested Taylor without incident at his Knoxville home.  Criminal records indicate that Taylor has been previously arrested no less then 10 times in Knox County.  His bond was set at $20,000 and he remains in the custody of the Knox County Sheriffs Department.
"Really and truly right now he's in a fight for his life," Waller says of his friend.
Gandy moved to the area from Texas in the 1990's, spending years working as a tow operator to save enough money to eventually open his own shop. He did so in 2005.
Towing colleagues in the Knoxville community have spoken out to local news with their support for the Gandys and their outrage over the crime.
"The slim chance this man has to live," one driver said, "Over a $75 bill is uncalled for."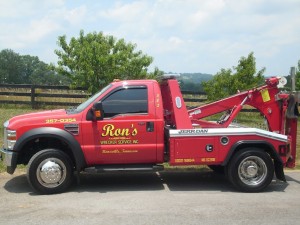 Want to share your own story?
Contact Us
or call 888-603-2599.