Zip's Truck Equip. Expands As Towing Leader
By: , Tow Squad News. Published on:
Subscribe in a reader
Opened 2nd Facility Near Detroit Earlier This Year
N. HAMPTON  – Over the past five years, Zip's Truck Equipment in North Hampton, Iowa has been expanding with one clear goal in mind – to make their small town the nation's capitol for towing equipment.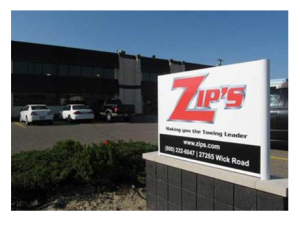 In 2008 they underwent a major renovation of their Iowa headquarters, nearly doubling their facilities to 1000,000 sq. ft.  This included large speciality shops for design, custom painting – along with a new showroom and adminstrative wing.  Then, earlier this year, they opened a second facility near Detroit.
They began as Zip's Body Shop in 1955, opened by Harry and Vivian Zipse in North Haptom.  In 1986 Paul Rottinghaus bought the company after over a decade on staff.  From there he and wife Margot have been impressively building the business ever since.
The couple's son and daughter-in-law David and Tiffany Rottinghaus have relocated to Michigan to run the day-to-day operations of that location.
"We hope to prove to this market," says David Rottinghaus, "that the quality of our product, dependability of our staff and service to our customers is top notch."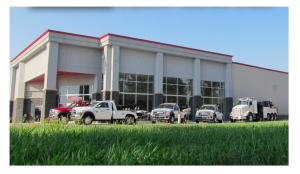 Also expanding has been the company's online presence, including social media and their own growing website, Zips.com.  Their Facebook page offers a pleasant glimpse into how much the staff really enjoys the towing business.
The addition of their Michigan facility means better reach with customers east of the Mississippi.  Located just a mile from the Detroit Metro International Airport, if features a complete body upfit service department staffed with experienced wrecker mechanics.
__________________________________________
Want to share your own story?
Contact Us
or call 888-603-2599.