Town Implements Sudden Tow Changes Over Football
By: , Tow Squad News. Published on:
Subscribe in a reader
Stiff Rules for Responding to Owners
BOONE, N.C. – An unusual new towing ordinance was suddenly adopted last week in Boone, North Carolina that enacts strict time limits on operators in the mountain community, effective immediately.  It all started with a college football game.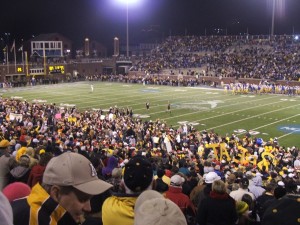 An unidentified "out-of-towner" was attending the Appalachian State vs. the University of Montana game on Saturday, September 8.  During the game his car was towed by Mountaineer Towing and Recovery of nearby Vilas.
Hours later the owner called the tow shop to retrieve his car, but learned the office had closed for the weekend.  That's when he contacted the Boone Police Department.
Speaking at a Boone Town Council meeting last Thursday, Mountaineer owner Tyler McKeithan said he was threatened by an officer with charges of larceny of a vehicle.  As directed, he returned the car to a Wells Fargo parking lot and released it to the owner.
The new ordiance would require area shops to remain open for at least six hours after impounding a vehicle.  It also requires the towing company to  respond to calls about any towed vehicles within 30 minutes, be available to receive payment on location within 30 minutes, and return the vehicle to the area it was removed from within one hour.
One chief concern is that drivers, under the new policy, would be forced to handle cash transactions at any hour and in sometimes dangerous surroundings.
The changes were proposed by town attorney Sam Furgiuele.  He later conceded that the police had no legal authority to order the release of the vehicle towed by McKeithen.
One owner who spoke to Tow Squad News said drivers have been told they could be charged with a misdemeanor and "sanctioned" against towing in Boone if they miss the deadlines.  He requested not to be identified.
At two separate meetings last week, owner McKeithan urged the council not to be hasty.  He reminded them that very little time had been offered for public reaction, and that it could also present a late night safety concern for employees of tow shops.
Other shop owners agree, especially over being forced to deal with intoxicated individuals as bars close down for the night.
"It's not safe to be out there with some people at 2 or 3 o'clock in the morning," said owner Robert Fisher of Fisher Towing.  "I'm trying to look out for the welfare of my employees."
McKeithan also encouraged the town council not to group towing professionals into a stereotype, as "all out here hiding in the bushes… all predatory."
Cited during Thursday's meeting as the reason to move so quickly on the matter were the remaining games of the football season.
"I think if we don't act at this meeting," said councilman Andy Ball, "we would be agreeing to strand people in the next month or so."
Football at Appalachian, like most larger universities, is a longstanding institution, with hundreds of games hosted at their stadium over the years.  Why the issue became so suddenly critical is unclear.
The motion was adopted by a vote of 3-1, with Councilman Rennie Brantz opposing.  He indicated during the meeting that not enough time had been allowed for proper consideration of the changes.
__________________________________________
Want to share your own story?
Contact Us
or call 888-603-2599.