Towing Operator Run Over By Police Cruiser
By: , Tow Squad News. Published on:
Subscribe in a reader
Random Job Turns Tragic For Family Run Shop
BANGOR, ME — The owner of a towing establishment in Maine was seriously injured Monday morning while unloading a police cruiser from a flatbed when it suddenly rolled over him.
Stanley Williams, 53, runs Anytime Wrecker, a family-operated business in Topsham.  His daughter Cindy was working the call with him, a request by local police to transport the disabled cruiser to a nearby shop.  She was on the other side of the vehicles and did not witness the accident.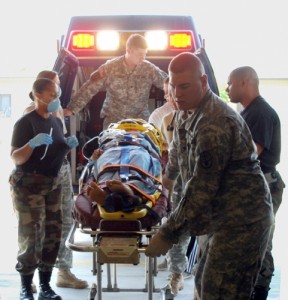 Officer Troy Garrison of Topsham Police did witness what occurred, and told the Bangor Daily News he had no time to stop it.   He explained that Mr. Williams was on the flatbed ramp reaching into the cruiser when it suddenly moved backwards.
Being briefly dragged as he held onto the steering wheel, Williams was then pulled beneath one of the wheels.  The path of the vehicle went from his right hip to left shoulder.
Williams' brother Ralph explained that his brother would sometimes slowly roll a car down the flatbed ramp to avoid damage to the undercarriage.  He believes his brother intended to put the car into neutral and then held on to the wheel when the cruiser unexpectedly started accelerating.
Williams sustained broken ribs and bad bruising, but no apparent internal or head injuries.  Williams went through open heart surgery this past March and had only been back on the job a few months.
__________________________________________
Want to share your own story?
Contact Us
or call 888-603-2599.