Towing Museum to Honor Industry's Best and Fallen
By: , Tow Squad News. Published on:
Subscribe in a reader
Located Near Site of First Patented Wrecker, 1919
CHATTANOOGA – The International Towing and Recovery Hall of Fame and Museum is set to honor this year's inductees this September in Tennessee. The towing industry has its roots in the area dating back to World War I. The ceremonies will be held at the Double Tree Hotel, paying tribute to ten inductees from around the world.  Seven are from the United States.
The inductees were announced in April after being selected by the museum members. Two of the nominees are deceased, Robert E. Schatzman Jr. of Spring Hill, Florida and Robert Sommers of Canoga Park, California.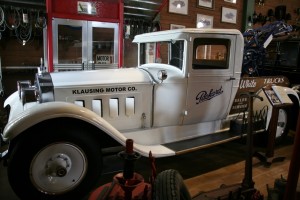 Surviving Americans who enter the Hall of Fame include Jeffrey P. Roskopf of Menomonee Falls, Wisconsin, James Satterfield of Sikeston, Missouri, Robert G. Birrell, Jr. of Kinsman, Ohio, Paul M. Bressi of Olympia, Washington and Michael P. McGovern of Knoxville, Tennessee. In order to be nominated by the museum, towing professionals must have served at least twenty years in the industry.
The Hall of Fame museum is based in Chattanooga, where the first auto wrecker was patented by Ernest Holmes in 1919. He got the idea from a 1916 accident in which he and nine other men worked for eight hours to pull a Ford Model T out of Chickamouga Creek in Tennessee.
Holmes' first auto wrecker, the Holmes 680, priced at $680, did not sell well due to its high price for that time. But when he introduced the Holmes 485 for $485, sales exploded and continued to sell well through the Great Depression.
During World War II Holmes secured a government contract to sell his recovery vehicles to the military. Today one of his 485 wreckers is on display at the museum and is valued at $250,000.
After Holmes died in 1945, his family-owned company remained in business until 1973, before selling to the Dover Corporation for $64 million. The assets were later acquired by Miller Industries, now the world's largest manufacturer of towing vehicles, producing between 5,000 to 6,000 trucks annually. Miller is based in Ooltewah, Tennessee, a small town not far from Chattanooga.
The number of towing professionals whose plaques line the walls at the museum now totals 275, representing twenty different nations. Located on Broad Street since 2003, the museum attracts about 10,000 tourists each year, in which about 25% are towing trade publication readers.
Exhibits include the largest wrecker of all time, weighing 70 tons, a prototype that was never developed for the market. Also on display is the world's fastest wrecker, the Holmes 440, able to 109 miles per hour.
A favorite display for many visitors is the Red Ball Express, a recovery vehicle used by the military at Normandy in World War II.
Industry professionals who have lost their life in the line of duty are honored by a monument called the "Wall of the Fallen."
The ceremony is September 15.
Want to share your own story?
Contact Us
or call 888-603-2599.