Tow Company Campaigns Against Driving While Texting
By: , Tow Squad News. Published on:
Subscribe in a reader
Mangled Vehicle Serves As Stark Reminder of Growing Problem
BLOOMINGTON, IL – While police patrol for offenders and state legislatures struggle to toughen laws, one Illinois tow company is fighting the dangerous trend of driving while texting head on.
With the mangled wreckage of a destroyed vehicle on display, Joe's Towing and Recovery of Bloomington is hoping to send a strong reminder about distracted driving.  Across the front windshield and scrawled in red is "W8 2 TEXT" with "Dont Text And Drive" along the sides.
The tattered vehicle was included in the town's annual Labor Day parade last week, but was not actually the result of a fatal accident.  Shop manager Bruce Pedigo says they chose a different vehicle rather then intrude of the privacy of a grieving family.  WMBD of Peoria interviewed some of the staff.
"When you get the response," tow operator Matt Long says, "you don't know what you're going to.  Cause you know something bad happened to somebody."
"There's two in mind that will never leave my memory bank," he said.  "It's just hard to let go."
After years in the business, the group decided to get proactive about something they've seen time and time again.
"You really feel the emotions of the family, Pedigo says, "You can't go through your day without feeling something for those families."
One employee says he's heard that people point out the warning car to their children.
Younger drivers are far more likely, statistically to be involved in an accident caused by a distracted driver.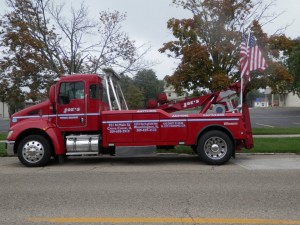 "It's something that could be avoided," Long says.  "So put me out of a job. Don't text. It's just that simple."
"That text may be the thing that costs you your life" Pedigo added.  "It's just as dangerous as putting a loaded gun to your head."
Want to share your own story?
Contact Us
or call 888-603-2599.