Indiana Tow Ops Ambushed Just Days Apart
By: , Tow Squad News. Published on:
Subscribe in a reader
Thieves Used Phony Dispatches As Bait to Rob Drivers
INDIANAPOLIS — Two Indianapolis tow truck drivers were robbed and assaulted within days of each other. Both incidents occurred earlier this month, according to police, after both drivers responded to phony calls.
The first crime was against the owner of Steve's Towing based in Indianapolis.  He'd received a call regarding a car for sale that needed to be towed.  When he arrived at the West 32nd Street dispatch location, he was approached by two mens who robbed and beat him.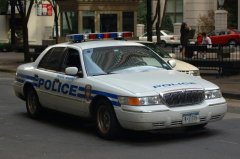 Less then two days later another driver, Darren Benton of Indiana's Finest Wrecker got a dispatch order for a scrap car.  At the site, two men directed him to the back yard of the address.  There a gun was brandished and he was ordered to the ground.
The thieves made off with the driver's cash, keys and cellphone.  He told local news station RTV6, "Guy come up with a gun, put it to the back of my head, grabbed the back of my shirt and pulled me back behind the garage."  He continued, "When he cocked it back, you know you're messing with young, dumb kids with guns."
Police indicated that the phone number used to call for both tows was, in fact, the same cellular number.
The incidents have prompted a gathering of tow drivers from around the Indianapolis area to gather in an effort to raise awareness to the crimes.
Driver Greg Haper, who helped organize the event, told reporters, "At any point in time, it could be any one of us.  We'd like to get together and take a lap around Interstate 465 to let them know that we're all here for them, we care for them, we're still a family and we'll always be there."
Want to share your own story?
Contact Us
or call 888-603-2599.