Tow Op Uses Crane To Free Trapped Bull
By: , Tow Squad News. Published on:
Subscribe in a reader
Animal Lover Called to Scene, Burma Stuck in Well
SACRAMENTO – Late one night earlier this month tow truck driver Doug Nelson received an unusual call. A rodeo bull weighing nearly three-quarters of a ton had wandered into a well.  Nelson's truck is normally designated for hauling broken down big-rigs.  Seems it worked just as well in excavating the trapped and frightened animal.
With the bull's head barely above water, fear and stress played a major part in the safety of man and beast alike. According to Dr. John Madigan, "The animal can get aspiration pneumonia, they can breathe in the water…The bull can get played out from exhaustion."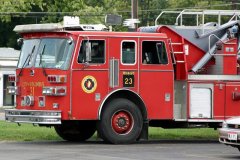 After a veterinarian sedated the animal, a special rescue team from the Sacramento Metro Fire Department stepped in.
The rescue crew carefully secured the bull's upper torso in a custom harness. After that, the job was up to Nelson. Using the heavy-duty crane and wench on his truck, the animal was easily lifted to safety. A few minutes later, the Burma was back on its feet.
As it turns out, Nelson is an animal lover. Being a part of the rescue was his pleasure and he even offered to discount the price of the job. He was quoted as saying "…We did it for a small fee of $300 instead of the normal price of $3,000 for a tow."
Not a bad night's work for the cooperative efforts of seventeen Folsom and Sacramento area firefighters, the University of California, the Davis Large Animal Rescue Team, and a big hearted driver with an even bigger truck.
Want to share your own story?
Contact Us
or call 888-603-2599.