Tow Op Rescues 4-Ft Baby Gator on TX Highway
By: , Tow Squad News. Published on:
Subscribe in a reader
Dangerous Situation for Public and Animal Alike
MAGNOLIA, TX – Early Monday morning on a humid stretch of Texas highway, tow operator Richard Wiple was making his way up Buddy Riley Boulevard north of Houston.  Suddenly something caught his eye scurrying along the asphalt.  He pulled his wrecker off to the side and got out for a closer look.  It turned out to be a four-foot long baby alligator.
This was a dangerous location for it to be at, both for the public and the gator.  Wiple, who had previously worked for the nearby City of Annahuac jumped into action.  It turns out the gator was just up the road from the Magnolia Fire Station.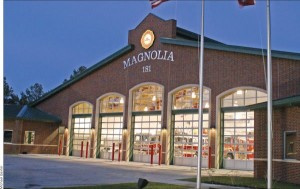 Wiple reported the situation and Magnolia Police were soon on the scene.  Despite the presence of so many emergency personel, it was the tow op who spearheaded the capture of the animal.  He had previously worked with gators.
From his truck Wiple retrieved a roll of electrical tape, separating strips to bind the gator's mouth and eyes for transport.  He secured a rope around its neck in case it broke free at any point.
Texas Parks and Wildlife were contacted to see how to proceed.  Since the animal was already captured and controlled, the decision was made to safely deposit him in a remote but undisclosed body of water away from danger.
Suddenly a sharp crack rang out and Wiple was hit with a lash of pain, but keeps hold of his grip and footing.  The gator's tail had whipped across his back in protest.  One witness likened the sound of the tail's contact to a baseball bat connecting with a pitch.
Police stood by at the ready as Wiple slowly loaded the animal into the back of a waiting police car.  Since he was found on Buddy Riley, the makeshift rescue crew decided to call him 'Buddy.'  Video of the transport shows a relatively calm young gator clearly confused by the activity around him.
At the drop location, two officers assisted Wiple by slowly removing the tape as he held the gator.  Then Wiple gently tossed him into the water.  Once back to a safe environment, Buddy lingered near the shore for a bit, staring up at the small crowd who helped get him there.  Then he quietly slipped beneath the muddy surface and swam out to deeper water.
Back at the highway there were small cheers and handshakes for a job well done.
Wiple, who found and helped safely relocate Buddy, works for Magnolia Paint and Body in Montgomery County.
http://blip.tv/scott-j-englephotojournalistconroe/magnolia-gator-capture-6333834
Want to share your own story?
Contact Us
or call 888-603-2599.