Tow Op's Mystery Illness Follows Tornado Clean-up
By: , Tow Squad News. Published on:
Subscribe in a reader
Possible Hazardous Exposure Leads CDC to Investigate
JOPLIN, MO – Nearly a year and a half after a tornado sliced through the small Missouri city of Joplin, killing 161 people, a tow operator from Kansas who helped in the aftermath is at the center of a medical mystery.
Mike Forest of Olathe, Kansas was among the early recovery crews clearing disabled and displaced vehicles after the May 22 tragedy last year.  He and a friend traveled a few hours south to assist in one of the most challenging storm recovery efforts in modern history.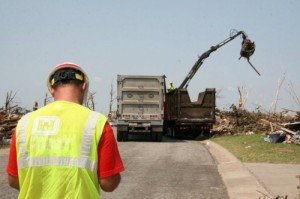 Less then two weeks after working 14-hour days, Forest, 43, began experiencing extreme symptoms of headaches, nosebleeds and blisters.  Still working in Joplin, medical services were stretched incredibly thin – and Forest was diagnosed with the flu.  He went back to work.
As the condition worsened, his wife became more concerned when she received a call from another recovery volunteer who explained, "I'm bringing your husband home."
Dina and Mike have been together nearly a quarter of a century, having been high school sweethearts.  Mike had worked as painter for years until he started helping a friend who ran a tow service.  He seemed to love the business.
Forest is currently in Shawnee Mission Medical Center in Kansas City undergoing a battery of tests that will hopefully help determine the issue.
The Forests now believe one particular recovery site is the key to what's debilitating him.  He and his crew worked near an area hospital where workers donned haz-mat suits early on in the clean-up.  On the fourth day, however, Mike and his crew were given the all clear to begin the removal of vehicles from that location without protective gear.
The CDC, which tracks disease activity following natural and manmade disasters, came to Joplin where they identified the first case of a rare deadly fungus following a tornado.  It eventually led to five deaths. The same investigators also tracked Forest's case.
While the experts seem unclear, the couple seems determined to locate a treatment.  Forest's wife says their next step may well be the Mayo Clinic.
"I keep telling him they are going to figure this out one way or another. My husband never gives up. He's a fighter.," sha told the Joplin Globe.  "But he told me last week- 'I can't live like this anymore.'
__________________________________________
Want to share your own story?
Contact Us
or call 888-603-2599.