Thanksgiving Pileups in Houston
By: , Tow Squad News. Published on:
Subscribe in a reader
Couple Killed, Roughly 140 Vehicles Involved
HOUSTON – The holiday weekend in Houston was marred by four separate pileups Thursday morning involving roughly 140 vehicles and killing two people.  Much of the Jefferson County towing community was called in to respond.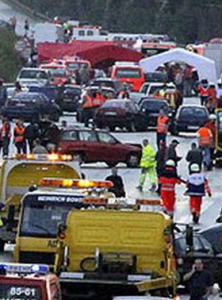 Vincent and Debbie Leggio of Pearland, Texas were killed while driving to a casino for the weekend.  Vincent, 64, owned a electrical contracting firm while Debbie, 60, helped care for their grandchildren.  
Dozens of others were injured in the multiple collisions.   
"There was so much damage and so many people hurt," said Eric 'Boo Boo' Roundtree of Chuck's Wrecker Service, speaking with the Houston Chronicle.  "If it wasn't a team effort, it would have gone sour."
Roundtree and his co-workers at Chuck's recovered five cars plus a tractor trailor.
Fog may have been a factor in some or all of the incidents, according the National Weather Service.
"This is the time of year when fog will form overnight and persist through the morning," said Todd Mogged, a National Weather Service meterologist.  "Lower temperatures at ground level and surface condensation, combined with warmer air from the Gulf of Mexico, create the right conditions that could affect a small area."
Investigations are underway to determine causes.
__________________________________________
Want to share your own story?
Contact Us
or call 888-603-2599.