St. Louis Car Thieves Busted Using Tow Trucks
By: , Tow Squad News. Published on:
Subscribe in a reader
Alert Neighbor Tips Off Police
By Will King, Tow Squad News
ST. LOUIS – Police in Missouri have arrested two men who were allegedly using a pair of tow trucks to steal vehicles.  This has been a growing trend in the greater St. Louis area in recent months.
St. Louis County police charged Missouri residents Leonard Ingram and Charles Moore with attempted theft of a vehicle, with the police report stating both men acknowledged having no authority to tow the 2001 Suburu Outback in question.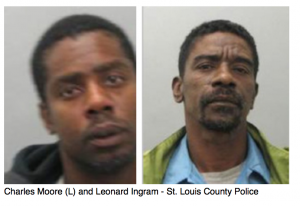 An alert neighbor first noticed a tow truck having difficulty maneuvering into a position to hook the Outback.  The car had belonged to a recently deceased neighbor of the witness.  When the first tow truck proved too large for the confined space, another soon arrived.
"One couldn't get it so the other one came and got it and scooped it up," said Spanish Lake resident Robert Buchannon.  Speaking with KMOV-News, he added, "They had already took off the four tires and I said wow that's unusual for the tow trucks to be back there like that."
When police arrived they found the Outback partially loaded onto a flat bed truck.  The police report indicates that they identified Ingram as the tow operator with Moore assisting.
Ingram's bail was set at $7,500 with $5,000 being issued for Moore.
__________________________________________
Want to share your own story?
Contact Us
or call 888-603-2599.