Shop Accused of Abandoning TX Teen
By: , Tow Squad News. Published on:
Subscribe in a reader
Billing Also Called Into Question
HOUSTON, Tx – A tow shop in Houston is defending itself against claims that a driver abandoned a teenager along a highway, driving off with his vehicle in tow.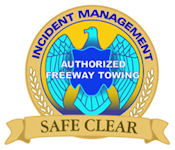 The incident occurred on a Wednesday evening in December, but has received local coverage in the past week.  The teen, C.J. Barner, says he called for a SAFEClear Tow, a City of Houston initiative that clears disabled vehicles for a flat rate of $50.  The program was set up in 2005 under then-Mayor Bill White as a way to keep area traffic less congested.
Under the program. towing firms in the area are required to bill appropriately for such dispatches.
Barner, a high school senior, says he experienced a breakdown that night.  When help arrived, it was from Allied Collision & Auto Repair.  Barner had arranged with dispatch to have his car, along with himself and a friend, transported to nearby Midwest Auto Storage to meet his mother.
Instead the driver dropped the pair off at a Park & Ride up the highway, where bus lines sometimes run depending on the hour of the day.
"He just told me and my friend to get out," Barner said, speaking with KHOU-News.
Barner's mother, Juanita Jackson Barner, says she was unaware where he child was, despite specifically agreeing with Allied on a meeting place.
"I spoke to the driver," she said. "I asked and specifically said that I wanted a SAFEClear tow. Please take him to the storage facility and I will meet you there."
C.J. claims the company got him to sign a $155 ticket for the job, despite the SAFEClear rate.  Then the rate was supposedly bumped up to $441.
The team at Midwest Auto ultimately changed the total to $50, and did so prior to the incident becoming a public matter. For the Barners, the experience still seems somewhat baffling.
"It's just not right dropping off a 16-year-old in the middle of nowhere," C.J. said.
__________________________________________
Want to share your own story?
Contact Us
or call 888-603-2599.