SUV Plows into Recovery Scene
By: , Tow Squad News. Published on:
Subscribe in a reader
Operator Just Feet From Impact
MIAMI, Florida – Two tow truck drivers in Dade County, Florida escaped injury Sunday when a Mercedes SUV slammed into a recovery scene in broad daylight.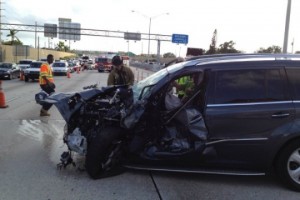 Miami Fire and Rescue say the towing professionals working the scene had a second tow truck on hand providing traffic safety assistance.  Despite this, the Mercedes carrying two adults and two children, crashed into the scene.
According to a report by KPLG-News, the unidentified operators were retrieving a disabled BMW along I-95-North.  The minivan bypassed the first truck and its driver, then struck the rear of the wrecker servicing the BMW.  The impact sent the truck spinning into open lanes of traffic, with much scattered debris.
According to police, the driver operating the lift of the BMW was standing just feet away from his truck when the collision occurred.  He and the other operator were injured in the impact.
Three of the minivan occupants, a woman and two children, were treated at the scene for minor scrapes and bruises.  The male driver was transported to Jackson Memorial Hospital and is listed in stable condition.
An investigation into the accident is underway by the Florida Highway Patrol.
__________________________________________
Want to share your own story?
Contact Us
or call 888-603-2599.