Runaway Van Slams Into NJ Tow Truck
By: Erez Kanaan, Tow Squad News. Published on:
Subscribe in a reader
One Killed, One Injured In Collision
HACKENSACK, NJ – A towing operator in New Jersey was injured Monday when a runaway van struck his parked truck at a high speed, killing the van's driver.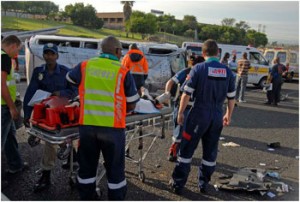 Tow truck operator Christopher Milles was taken to Hackensack Medical Center with unspecified injuries.  Milles, 25, told police his vehicle was parked and idling at the time of the impact.  He works for Dynasty Towing out of Oakland.
The van's driver, Henry Shuart of Franklin Lakes, was in a work vehicle at the time of the accident.  He was driving a 2004 Chevrolet for Service Maintenance Corporation along northbound Route 208 when the incident occurred.
Shuart, 68, was transported to St. Joseph's Regional Medical Center with severe but unspecified injuries.  He was later pronounced dead.
It is unknown what caused the van to suddenly veer off the road. Franklin Lakes Police are investigating.
 
__________________________________________
Want to share your own story?
Contact Us
or call 888-603-2599.