Runaway NJ Tow Truck Slams into Tailor Shop
By: , Tow Squad News. Published on:
Subscribe in a reader
Brake Failure Blamed, Entire Building Condemned
WEST ORANGE, NJ – A tow truck with failing brakes careened through a West Orange, NJ business district Wednesday, colliding with three vehicles and then smashing through the side of a building.  The driver suffered minor injuries, as did an employee at a tailor shop where the truck punched through.
The vehicle was from R&R Towing of Maplewood, NJ though the driver has not been identified.   Officials in West Orange have determined the damage is sufficient to condemn the entire property until repairs can be made.
The incident began near the top of Eagle Rock Avenue in the business district of West Orange.  When the driver realized his brakes were gone, he struggled to avoid injuring anyone as his truck plowed ahead, only increasing in speed.  He clipped an unoccupied mail truck, sheering his left side mirror.
To avoid another collision the driver then swerved onto Main Street.  Luckily the area was considerably less crowded as school was out for Yom Kippur.
At the intersection of Main and Washington, the truck plowed into the back of stopped mini-van which was then propelled forward into a sidewalk planter and another car.
This is when truck  hit the outer wall of the building, where Machado's Tailoring faces Washington.  The momentum of the truck was such that it continued forward punching through to a second business, a financial services firm.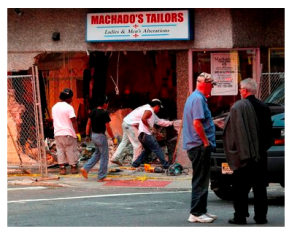 "That driver hung on to that truck and did probably the best job … that anybody could do coming down that hill losing his brakes," said R&R owner Ralph Bondi.
The driver is said the be recovering well.  Calls to the tailor shop went unanswered.
Town officials assessed the building and have deemed it to be an "unsafe structure."  It has been ordered closed to businesses and residents until repairs are made.
"It is repairable," said town inspector Thomas Tracey, speaking to the West Orange Patch.  "Just because there are structural problems … does not mean it has to come down."
The building contained a few local businesses as well as six residential spaces.  The truck's impact damaged a chimney that acted as the heating ventilation for the property.
According to Bondi, the tow truck was totaled.
West Orange Police are investigating the incident.
__________________________________________
Want to share your own story?
Contact Us
or call 888-603-2599.