Legal Lifting: Towing & The Law
By: , Tow Squad News. Published on:
Subscribe in a reader
Cases From Courthouses Around The Country
TOW SHOP SUED FOR $219K PREVAILS
SALT LAKE CITY – A Utah towing firm was victorious in court this week after being slapped with a lawsuit seeking over two hundred thousand dollars in damages, stemming from three separate instances.
One case started last March when attorney Michael Zundel of Salt Lake City went with his son to see a film.  Parking in a restricted lot, they returned to find their vehicle had been removed by Legacy Towing.
Two other plaintiffs joined their suit.
In court documents, tow operator Dustin Shurtleff described an unpleasant exchange, saying, "Michael Zundel said he was an attorney and that he 'highly recommended' we bring back the vehicle to the property or release it for free.  He threatened that if we didn't release it or bring it back at no charge, he would sue us."
Lagacy Towing's attorney Heater Thulet referred to the purported damages as "outlandish".  The Zundels' fee was originally $279, but with storage costs rose to $529 after it went unclaimed for 13 days.
Legacy's owner Schafer Magana told the Salt Lake City Tribune, "We do our due diligence — only one sign is required and we [have] five or six stating Customer Parking Only."
3rd District Court Judge Paul Maughan handed down the ruling.  The Zendels indicated they plan to appeal.
 ___________________________________
TOWING TROUBLE IN TEXARKANA
TEXARKANA, AR – A U.S. Magistrate judge in Arkansas is expected to hand down a ruling soon in a dispute that pits one city leader against a longstanding towing policy on grounds of constitutionality.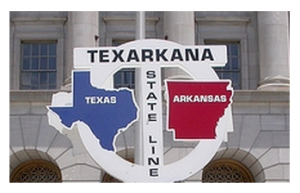 Laney Harris, director of Texarkana's Ward 2 is challenging efforts to tow abandoned or unsightly vehicles that have remained parked for extended periods of time.
He is seeking a restraining order to temporary cease the practice until further legal review.  He claims the practice violates the owner's right to due process.
Criticism arose that Harris' interest in the matter was only sparked when the city attempted to remove a vehicle from his property's front yard.
If Harris' motion is granted, the city would not be allowed to tow any abandoned vehicles without the signature of a judge.  City officials call that rash, and argued that suspending the policy even briefly would harm the community.
Judge Barry Bryant is expected to hand down his ruling by early next week.
 ___________________________________
$1.5M SOUGHT FOLLOWING BIZARRE REPOSSESSION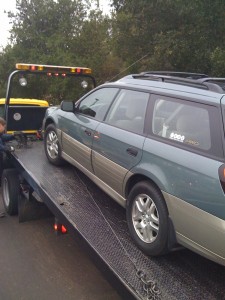 GALVESTON – A south Texas man is seeking $1.5 million claiming he sustained injuries when a tow truck ran over his leg during the repossession of his mother's vehicle.
Charles Miller brought legal action against South Texas Recovery and operator Buddy Lee Gonzales last month, as well as an area body shop and the credit agency that ordered the vehicle seized.  In a bizarre account, Miller alleges when he approached Gonzales, the driver came toward him swinging a metal bar.  Miller says he disarmed Gonzales, who rushed for his cab.
Miller then says while chasing the escaping truck, the driver side door shut on his hand, forcing him to run alongside the vehicle.  He then smashed the window, opened the door and fell to the ground.  This is when he says the truck drove over his left leg.
The defending parties have chosen to await their day in court to address the claims.  District Court Judge Lonnie Cox is currently presiding over the matter.
__________________________________________
Want to share your own story?
Contact Us
or call 888-603-2599.