In Passing: Carl Jordan Jr.
By: , Tow Squad News. Published on:
Subscribe in a reader
Survived By Wife Joann, Son C.J.
YOUNGSTOWN, Ohio – The towing community in Austintown, Ohio gathered together this weekend to participate in the funeral procession of a much-loved friend.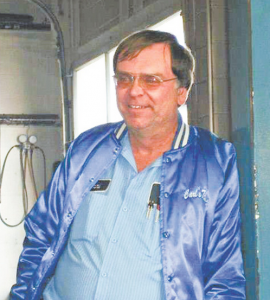 Carl Jordan, Jr. ran Carl's Towing out of Austintown for 39 years.  On Saturday over thirty wreckers joined in his final journey through downtown.  As his son C.J. explains, that was by design.
"When I was 16 years old, we saw another man's funeral procession like that," C.J. Jordan tells Vindy news, "and he made the comment that he'd wanted that for him. I had it set in my mind how I wanted it and got a guy from another towing service to help."
The family is now adjusting to the loss as C.J. prepares to take over the business.  He had been studying criminal justice in vocation school, and is now looking forward to continuing the shop his father opened nearly four decades ago.
A family friend is helping with the transition.  Terry Rusu worked for the senior Mr. Jordan at their Mahoning Avenue location twenty years earlier.  The two had met over CB chatter, eventually meeting up and working together.
"He was one of the easiest guys to work with," said Rusu, who became quite close to the family over the years.  He served in Carl Jr.'s wedding, and is now helping C.J. learn the ropes.
"I don't think it's hit me yet," C.J. said.  "I've been preoccupied with the business."
"When we talked he said, 'Keep a roof over your mother's head and keep the business going.'"
Carl Jr. died last week after battling cancer.  He is survived by his wife Joann Jordan.  
He was a good friend to the towing community as well as law enforcement.  At a recent meeting of the township trustees, Joann Jordan spoke out to honor her husband, and to thank local police for the respect they had shown him.
He opened Carl's Towing in 1974.
__________________________________________
Want to share your own story?
Contact Us
or call 888-603-2599.