High Speed Police Chase for Stolen Tow Truck
By: , Tow Squad News. Published on:
Subscribe in a reader
Shots Fired, Officer Punched, Thief Crashes Truck Into His Own Home
PROVIDENCE, R.I. – A man desperately attempted to flee local police in a stolen tow truck Wednesday, crashing into his own home after shots were fired into the vehicle.  A woman in the passenger seat was grazed by a bullet, but the driver was unharmed. He was taken into custody by state police at the scene.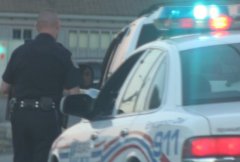 The pursuit began in North Providence where detectives approached a suspect in a string of car thefts.  That's when police say Sean Sparfven punched an officer and then took off in a tow truck stolen from an area salvage yard.
Three officers were reportedly injured during the pursuit, with numerous vehicles damaged from North Providence into the suburbs of Providence proper.
With lives at immediate risk, police determined that deadly force was warranted.  An undetermined number of shots were fired at the vehicle, with one striking the passenger, who police later identified as Sparfven's sister.  The vehicle then crashed into the side of a home determined to belong to the suspect.
"We're alleging that he got out and punched one of the members of our task force in the face" said Cl. Steven O'Donnell of the Rhode Island State Police, "and then he rammed one of our cruisers."
The suspect's girlfriend Yvonne Beliveau told WPRI News, "They're making him out to look like a monster," said Beliveau. "This kid works, stays out of trouble, doesn't bother nobody, and he's very family-orientated."
O'Donnell disagrees, saying police response was justified.  "They were in fear of their life. We looked at evidence where we watched a 13,000-pound tow truck — that we've learned through our accident reconstruction was going about 43 mph — hitting him head on."
Sparfven is being held on $100K bond on 14 felony counts, including two for assault with intent to murder.
__________________________________________
Want to share your own story?
Contact Us
or call 888-603-2599.