Gov't Roadside Contracts On Uncertain Path
By: , Tow Squad News. Published on:
Subscribe in a reader
Economic Realities Weigh Heavy on City, State Budgets
SANTA CRUZ, CA –  In many communities the largest and most consistent customer for towing outfits has always been their local government.  Whether they provide services to a small town towing their incident vehicles, or keeping highways clear during state construction work, these contracts often make up a considerable portion of the industry's annual pie.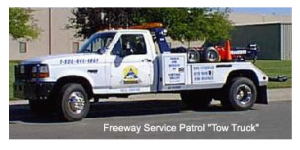 As the economy continues to slowly recover from its recent downturn, many towing firms are seeing programs  or contracts discontinued as governments scramble to bridge unbalanced budgets.
In California, the Freeway Service Patrol is a function of the state's transportation agency and highway patrol.  This allows for highly congested areas to have proactive trucks in place to keep things moving in rush hour traffic.  Their success has prompted many construction bids for highway work to include money for similar coverage in their work zone.
However as contracts expire or work extends beyond the projected end date, the funds are just not available to continue.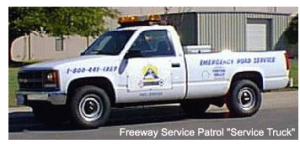 Walt Barrows has been towing for over 28-years, the last dozen working  essentially for the state.  As hard decisions are made against the backdrop of a fiscal crisis – his service simply may no longer be one the state can afford.  The 59-year old father of two pre-teen daughters hopes a solution can be quickly found.
He says, "It's very rewarding to do what I do in making everyone's commute better," he told the Santa Cruz Sentinel.
His situation is not unique, as towing firms nationwide have seen staggering cuts to local services.
"Every day they work, FSP drivers assist stranded motorists, remove roadway hazards, and help us get traffic flowing," said officer Sarah Jackson, CHP spokesperson. "One call I remember in particular was a collision blocking north and southbound lanes of Highway 17… traffic was completely locked up due to the collision. Walt happened to be in a turnout quite close to the collision and was able to remove the vehicles from the lanes. This allowed traffic to begin flowing again and expedited my response. The people involved in the collision referred to him as an 'Angel.' "
Barrows works for Ladd Towing of Felton, an outfit that is in danger of losing half their staff should funding not be renewed.  Ladd Towing has been serving the greater Santa Cruz area since 1980.
"That's a big loss for us," said owner Jack Ladd.
Barrows remains upbeat.
"They'll find money," he says.  "They always do."
__________________________________________
Want to share your own story?
Contact Us
or call 888-603-2599.