Flatbed Hit By Fleeing Suspect
By: , Tow Squad News. Published on:
Subscribe in a reader
Punches Hole In Side of Home
ROCHESTER, NY – A tow truck driver in New York was caught off guard Tuesday when he was side-swiped by a vehicle fleeing police, causing him to crash his flatbed into a suburban home.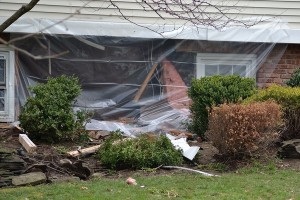 Police did not release the names of either driver, citing the ongoing felony investigation of the subject.  He allegedly jumped into a stolen car Tuesday afternoon when approached by detectives investigating a series of thefts.
From there police say the driver first smashed into two unmarked cruisers at the scene before barreling forward into traffic.  
This is when the vehicle struck the tow truck, which in turn careened off the road and into the side of an unoccupied house.
The flatbed also clipped the homeowner's vehicle parked in the drive.
Police indicate they were not technically in pursuit of the fleeing suspect when he initiated the accidents.  They are investigating further and are anticipating an indictment soon.
The suspect was transported to Strong Memorial Hospital in Rochester before being processed at the jail.  He sustained cuts to his arms and face.
The house was later deemed uninhabitable by the city.
__________________________________________
Want to share your own story?
Contact Us
or call 888-603-2599.