Fire Chief Guilty After Refusing Wrecker
By: , Tow Squad News. Published on:
Subscribe in a reader
Decision to Use Civilian Aid Deemed Unsafe
POPLARVILLE, MS – In an unusual case that pitted Poplarville Fire Chief Michael White against the Pearl River County Sheriff's Department, White was found guilty last week of disorderly conduct for refusing to allow a wrecker to be called for an overturned vehicle.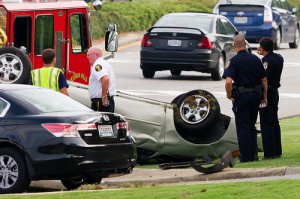 On July 15 a one-vehicle accident left the car overturned.  Emergency personel were quickly on the scene, including an ambulance service and local fire and police.  No towing service was called to the location.
At dispute is the decision to allow civilians to orchestrate the righting of the vehicle, in the street with no official training.  A local man near the scene had a personal truck with a wench, and a dust-up occured at the scene over whether this should be allowed.
Cpl. Joe Garcia of the Pearl River Sheriff's  attempted to physically prevent the manuever, but said in court he was shouted down at the scene. His main concern was over the fire hazard presented by the damaged vehicle.
After the vehicle was righted without incident, Garcia took White into custody on the single charge of disorderly conduct.
"I begged him to leave," Garcia testified.  "I didn't want to arrest him."
White said he felt the procedure was safe, and would save the motorist the expense of tow.
"The economy's bad, and if we can help someone, I'm going to help them," he testified.
Other fire personel testified to the odor of gasoline at the scene.
White as ordered to pay court courts and a fine totaling $423.  His lawyer says they plan to appeal.
__________________________________________
Want to share your own story?
Contact Us
or call 888-603-2599.