Driver To Face Murder Charge Following Death of Tow Driver
By: , Tow Squad News. Published on:
Subscribe in a reader
Police, Prosecutors Make Determination Following Blood Alcohol Test
BIRMINGHAM – A driver who struck and killed a tow truck operator roadside on Kentucky's Interstate 75 will face a murder charge according to prosecutors. Police say he was under the influence of alcohol at the time of the accident.
The tow operator was 49-year old Howard M. White of Baghdad. According to the police report he had just stepped from his cab near the 30-mile marker in order to check that his load was secure before continuing back to the storage yard. He was suddenly struck by a box truck being driven by Austin Meredith of Sevierville, TN.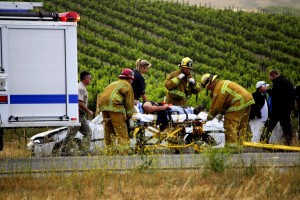 Two unientified passengers were in the cab of the roll back wrecker when White was struck. They were not injured according to police.
Meredith, who police said was under the influence of alcohol, crossed the white line at the side of the road, hitting White and the parked wrecker, according to the release.
The charges against Meredith include driving under the influence, wanton endangerment, and the single count of murder. His initial arrest at the accident scene was on suspicion of driving while intoxicated and a number of commercial vehicle violations.
It was only after blood alcohol tests were performed that prosecutors discussed raising the top charge. He was taken to the Laurel County Detention Center where he remains in custody.
Police also charged Meredith with additional counts of wanton endangerment for speeding through the scene of the crash.
Kentucky's Move Over Law was implemented in 2003.
Want to share your own story?
Contact Us
or call 888-603-2599.