Deer Strikes On The Rise
By: Erez Kanaan, Tow Squad News. Published on:
Subscribe in a reader
More Accidents in November, By Far
CHARLOTTE, NC – Each year as the weather begins turning cooler, drivers in many parts of the country have an increased likelihood of encountering, if not colliding with, a deer.  Some indicators suggest that accidents involving vehicles and animals are at the highest recorded levels.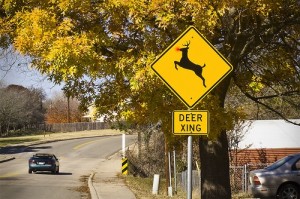 In North Carolina, the DOT reports an average of 19,500 animal-related crashes each of the last three years.  Over ninety percent of those incidents involved deer.  This is nearly double the number of incidents over their findings from the late 1990's.
"This is the time of year when the deer get active," according to Chris Matthews, a natural resources manager for the Charlotte-Mecklenburg Park and Recreation Department.  Speaking with the WCNC-News, he added, "Unfortunately, that increased activity sometimes brings them in contact with drivers."
State Farm just released their ranking of states in relation to deer and accidents.  It rated 16 states as"high risk" areas, including both Carolinas and most of the south.
As towing professionals know, most of these collisions occur away from city traffic, though exceptions are becoming less rare.  Near downtown Charlotte, a considerable section of the John Belk Freeway was shut down for close to an hour just days after the Democratic National Convention left town when a deer wandered into traffic.
Over the past three years, according to State Farm, deer-related crashes have increased nearly 8 percent.  November is traditionally the most active month, accounting for 18 percent of the annual accidents.
__________________________________________
Want to share your own story?
Contact Us
or call 888-603-2599.