Big Rig Plunges 200 Ft, Spills Fuel, Acid
By: , Tow Squad News. Published on:
Subscribe in a reader
Connecticut Crew Manages Hazardous Recovery
DANBURY, CT –  The team from Lisi's Towing in Brewster were called to the scene of a tractor-trailer that plunged over two hundred feet down an embankment last Friday. Rescue and recovery efforts were complicated by a fuel leak as well as acid spilling from the cargo of industrial batteries.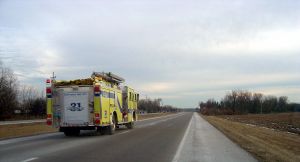 The crash occurred around 8:30 in the morning on a straight stretch of Interstate 84 near Brewster, and involved no other vehicles.  The truck took out nearly one hundred feet of highway guardrail before tumbling head first into a ravine.
The driver was taken to nearby Danbury Hospital with unspecified injuries.
Connecticut State Troopers directed traffic around the eastbound lane for hours as the recovery effort stretched into the afternoon.  Chief among the concerns were a fuel leak from one of the truck's saddle tanks, plus acid spilling from the damaged batteries.  The clean-up would have to be a careful endeavor, both in terms of human and environmental safety.
Anthony Lisi, who nows run the family business his father Remo started in 1970, led the team to recover the rig.  He and his crew were facing a steep incline with hazardous fumes.
An emergency hazardous materials resposne team from Putnam County and the New York Department of Environmental Protection were on scene and oversaw the ground clean up.  Top soil contaminated by the acid was removed over the next three days.
The cargo consisted entirely of industrial batteries, larger then typical car batteries, for use in computer servers.  Celadon Trucking Services of Indiana is the registered owner of the vehicle.
__________________________________________
Want to share your own story?
Contact Us
or call 888-603-2599.