Cops Dodge Wild Bull on Interstate
By: , Tow Squad News. Published on:
Subscribe in a reader
VIDEO: Dashcams Caught the Action
GAINESVILLE, Fla. – Deputies with the Alachua County Sheriffs Department had their hands full on I-75 Tuesday attempting to corral a loose bull wandering among the traffic.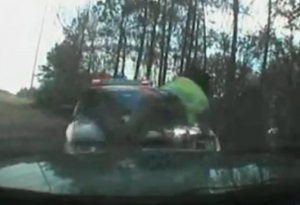 A livestock trailer had flipped over from a blown tire, releasing the massive bull. Much of the action was recorded by dashboard cameras mounted in cruisers arriving at the scene.
Trooper Matt Simmons can be seen diving across the hood of his patrol car just before the bull sweeps past the side of it. Sgt. Richard LaLonde says the animal actually came in contact with him, but luckily without horns.
"He actually hit me in my left hip," LeLonde tells WESH-Newss.  "If he had horns, he would have hit me in the mid-area."
Police were eventually forced to put down the animal for fear of public safety.
As for the officers, no one was too seriously injured.
Some bruised ribs, a bruised elbow, and a bruised knee," LaLonde says.  "I should check rodeo clown off my bucket list."
WATCH THE DASHCAM VIDEO… 
__________________________________________
Want to share your own story?
Contact Us
or call 888-603-2599.