Black Ice Warnings Across Country
By: , Tow Squad News. Published on:
Subscribe in a reader
Can Appear At Up To 40 Degrees
MADISON, Wisc. – Meteorologists from Georgia to California are warning drivers that conditions are right for black ice.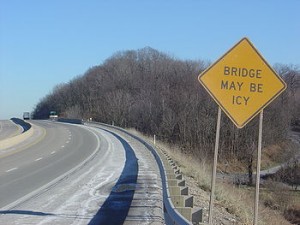 Black ice is actually clear due to its thinness, mirroring the surface below. It can occur in large or small patches, and is often indistinguishable from a wet road. Drivers frequently mistake it as a small puddle of water, or wet pavement. Every year countless accidents and fatalities are attributed to the condition.
The National Weather Service has warned that black ice is likely across most of central Georgia and Alabama over the next 24 hours. Similar warnings have been issued in northern California and throughout the New England corridor, just to name a few areas.
Experts remind to look for black ice when temperatures drop below 40 degree fahrenheit.  It can appear well above freezing conditions as surfaces can maintain a lower temperature. Watch for it in lower areas near water sources, which can include natural run-off.
It is also more likely to appear in shaded areas near large trees or buildings.  Often it will give the surface a slightly more dark appearance, while still seemingly dry. Moisture from automobile exhaust can actually contribute to black ice, as it condenses on the road surface during travel.
Remind customers that if they hit black hit, don't over-react with braking.  The best advice is to slowly decelerate while maintaining control of the vehicle. If a car does begin to spin on a patch of black ice, always remember to turn in the direction of the spin.
__________________________________________
Want to share your own story?
Contact Us
or call 888-603-2599.