Bill's Towing Keeps Growing
By: , Tow Squad News. Published on:
Subscribe in a reader
Couple Continues Expanding Business
LODI, Wisc  I  Bill Sellner and his wife Kathy first opened Bill's Towing & Recovery in Lodi, Wisconsin back in 1996, just one truck and a 2-stall garage.  In December, they expanded to a fourth location in nearby Waunakee.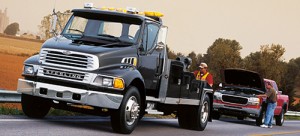 Bill has been in the businees since 1981, and is among the most experienced specialists in the state.  According the Waunakee Times, he's one of "only three or four specialists in Wisconsin with a Level 3 certification, an indication of the training he's undergone."
Kathy is herself actively involved with not just the shop, but also the broader industry.  She serves as vice president of the Towing and Recovery Association of America, or TRAA, of which Bill is a certified member.
This fourth and latest addition to their growing enterprise is in Waunakee, just north Madison.  According to the Sellner's, it was at the request of local law enforcement, specifically the Dane County Sheriff's Department.
Bill tells The Waunakee Times that they actually like the really difficult recoveries the job can sometimes throws at them.
"It gives us a challenge," he said.  "It takes a lot to do it right without damaging the vehicle."
The greater Madison area, like most of Wisconsin, has seen heavy snowfall so far this winter.  A late December snowstorm that quickly closed Highway Q in both directions left numerous vehicles stranded at roadside.  The Sellners and their team were called in by deputies to help clear a blinding and chaotic scene.
"We have the equipment and ability to get that road open," Bill said, "We have equipment for backhoes, skid steers and dump trucks."
Currently the team has grown to 18 full-time staffers and several part-timers. They have additional locations in Sauk City and Wisconsin Dells.
__________________________________________
Want to share your own story?
Contact Us
or call 888-603-2599.