Antique Wrecker Apparently Targeted in Theft
By: , Tow Squad News. Published on:
Subscribe in a reader
Crime Took More Then 3-Hours To Execute
MANCHESTER – At U.S. Hydraulics they're still scratching their heads a bit over a bizarre theft at their New Hampshire headquarters last month.  Stolen was a rare antique tow truck – a 1955  International Harvester Co. wrecker, often used in the Vietnam conflict specializing in heavy equipment recovery.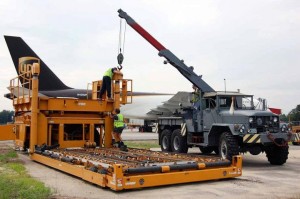 "It was a professional, they knew what they were doing." says Michelle, a staffer at US Hydraulics who spoke with Tow Squad.  "It was definitely someone familiar with these trucks."
She points out that specific equipment was targeted along with the vehicle, suggesting whoever took it plans to utilize it, not disassemble it.
The truck was stolen in the 3 o'cock hour of a Sunday morning on Sept 16.  Security cameras from nearby businesses actually captured the vehicle driving away from the premises.  The thief – or thieves – cut through a locked gate as their point of entry.  Security footage would suggest they were on the property for more then three hours.
The crime was discovered the next morning when staff arrived to work.
The vehicle itself was purchased 18-years ago by company owner Eric Allard, not too long after he founded the business.  He'd served in the U.S. Navy where he trained as a specialist in aviation hydraulics.  In 1992 he started U.S Hydraulics out of a 10 x 10-ft. garage space in Manchester.  Today they are one of the leading names in fluid power in the New England corridor.
Manchester police are investigating the crime, and anyone with information is encouraged to reach out to their tip line at 603-624-4040.
This particular wrecker was rigged with a special boom, and was from the last year that line was manufactured.  These elements may have played a role in why Allard's vehicle was targeted.
One particular detail about the truck was misunderstood by many at first – that it had received a keyless ignition upgrade.  This naturally sounds a bit out of place on a restored 1950's-era vehicle.  The vehicle did have 'keyless ignition' by way of a simple start button on the dash.
This was, in fact, how most of them were originally manufactured by International Harvester for potential use in a combat zone.
__________________________________________
Want to share your own story?
Contact Us
or call 888-603-2599.