AAA Goes Pink For Breast Cancer Awareness
By: , Tow Squad News. Published on:
Subscribe in a reader
Campaign Kicks off With Charity Walks in Chicago, Detroit
CHICAGO – The American Automobile Association, more commonly knowns as AAA, is rolling out pink tow trucks in October to show support and raise awareness for National Breast Cancer Month.  This will mark the first occasion that the organization has steered away from their signature red, white and blue trucks – even temporarily.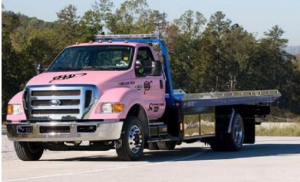 The program is in conjunction with the American Cancer Society and is expected to be seen by over 10 million people, according to AAA's press release.
"We assist more than 25 percent of the driving public,"  said Gerry Gutowski, Sr. Vice President of AAA Automotive Services, "with AAA roadside assistance-and our service vehicles are seen on our nation's roadways by millions of motorists each day,"
The campaign will begin in Chicago this month and continue through the end of the calendar year.  The trucks will be fully functional, on-the-job fleet vehicles.  Aside from special appearances, they are expected to assist in around 1,500 roadside recoveries before year's end.
"Our hope is that these pink tow trucks will garner attention and spread awareness to help in the fight against breast cancer," Gutowski continued.
AAA will also participate in the upcoming 'Making Strides Against Breast Cancer Walk' on Oct. 20 in Chicago.  They will be hosting more then 3,000 volunteer walkers who raise funds through sponsorship.  Some employees will be joining in the event.
An even larger charity walk is being held Oct. 13 near Detroit with an expected 15,000 people involved.  The trucks will be on hand at both events.
AAA is also planning trucks in additional communities, starting with Miami.
__________________________________________
Want to share your own story?
Contact Us
or call 888-603-2599.