$1.8M Contract for Proactive Towing
By: , Tow Squad News. Published on:
Subscribe in a reader
California Town Offering Free Roadside Service To Improve Traffic
SAN JOAQUIN – In a preemptive effort to improve traffic flow through long term construction areas, the California town of San Joaquin is applying a novel approach. Beginning next year, contracted tow trucks will patrol during rush hours to maintain a well-oiled commute for drivers.
The $1.8-million contract was awarded to Mike's Towing from nearby Stockton. The specifics are still being fine tuned, but the basic idea is to promptly deal with flat tires and stalled vehicles that can ultimately slow down thousands of motorists.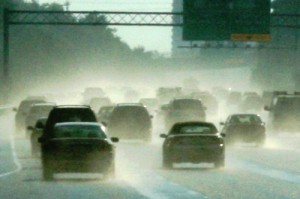 The program will kick off in January and continue for 30 months with a specific focus on two trouble spots, Interstate 5 and Highway 99. The construction at these locations is scheduled to continue for years.
The service will be free to motorists.
The decision was made by the San Joaquin Council of Government, which serves as the regional transportation authority. Associate regiional planner Donald Mascardo tells RecordNet, "The objective here is to relieve congestion in a timely manner and avoid accidents… If a car has to stop under those conditions, it has no place to go. It will get stuck in that lane, and it will cause congestion."
Four major construction sites are the central focus of the experiment, as they often are already closing down a lane or two.  The added disruption of an additional lane at the wrong time of day can lead to hours of congested traffic.
Funding for the effort has been rolled into the construction budgets for the projects. Additionally, the same amount has been allotted to increase the number of California Highway Patrolmen near the sites.
The method has been successfully attempted before in California.  The Freeway Service Patrol program has been applied along Interstate 205 near Silicon Valley and San Francisco.
Officials say the program also makes rush hour more safe for both construction crews and the driving public.
Want to share your own story?
Contact Us
or call 888-603-2599.