Charity's Flatbed Boosted From Lot
By: Erez Kanaan, Tow Squad News. Published on:
Subscribe in a reader
Caught on video, suspect doesn't attempt to conceal identity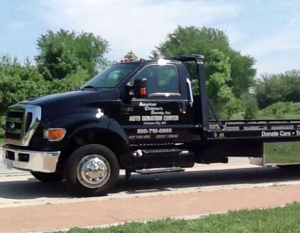 KANSAS CITY  l  On Monday morning a charity outfit in Missouri had their entire operation thrown into chaos after someone stole a flatbed tow truck from their fenced-in headquarters.
The Auto Donation Center collects and distributes unwanted or unneeded vehicles to struggling families, working with organizations like the American Children's Society to make a real difference in people's lives.
A big part of that difference is a 20-foot Ford F650 roll back tow truck, used by the charity to collect or deliver the vehicles. Most frequently the vehicles go to families with sick children who do not own a car.
The truck was purchased by the charity two years ago for about $85,000 and had another $9,000 worth of custom equipment on board, according to Mike Lane, director of The Auto Donation Center.
"They'll try and take it somewhere and sell it," Lane old Fox-KC. "Obviously if you steal for a living you're not that smart."
On that point, the felony was captured on surveillance video, revealing a male thief who did not conceal his face or wear gloves to the crime scene.
Another vehicle believed to be involved was also caught on camera, a white Ford pickup seen just before the break-in occurred, then seen again as the tow truck was removed from the property. 
"He slim-jimmied the door and got in the truck," said Lane, referencing the video. "Once he had the truck started he came over and cut the gate." 
In all the theft took approximately 20 minutes, and is believed to have involved at least two suspects.
"These are tow trucks guys, they know what they're doing," Lane told a reporter from KSHB-News.
He then corrects himself… "They're tow truck crooks, not tow truck guys."
"It's aggravating, it makes us mad that somebody would do that to us, we never even charge to tow or help people," said Lane. 
The Auto Donation Center is offering a $5,000 reward for the arrest of the suspects and the return of the flatbed.
Kansas City Police are investigating.
More Of the Legal Latest in Towing