Towed Fireworks Returned By 4th
By: , Tow Squad News. Published on:
Subscribe in a reader
Michigan Judge Orders Trailer Unit Returned
NEW BUFFALO  l  A time-sensitive battle over fireworks just prior to Independence Day has lead to conflicting orders for a tow truck company in New Buffalo, Mich.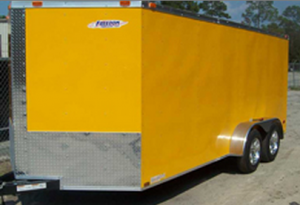 On June 28 the city contracted a local towing outfit to haul away the Patriot Fireworks Company trailer after a state fire marshall cited the operation on safety grounds.
City leaders also contend that the company had violated their permit and should not be allowed to remain operational. 
Local controversy surrounded the large yellow trailer, with many finding it an eyesore while others had strictly safety concerns.
Yet on Monday, a local judge suddenly ordered that the unit be returned as soon as possible. It was back in place by the end of the business day.
Originally owner Tracy Wolf had retained a 90-day seasonal permit allowing her to operate until July 10. She believes certain city leaders orchestrated its removal prior to the completion of her contract.
"We shouldn't have been closed," Wolf said. "It wasn't right."
On Monday night she was setting back up and preparing for Thursday night's big show on-site. The city indicated to her that it would pay for the cost of the tow, in both directions.
Wolf had originally threatened a lawsuit over the matter on June 28, claiming she had specific permission to operate. The matter of legal action was reportedly resolved after parties reached a "mutually agreeable resolution."
As to the state fire marshall's concerns, a temporary approval was granted by Randy Lankford of the State Bureau of Fire Services, who confirmed that any deficiencies in code by Patriot had been corrected. According to Wolf, the violations were minor issues such as exposed fuses on small bottle rockets.
Patriot Fireworks operates roughly 30 outlets through the state, some as smaller, mobile shops.
New Buffalo is a popular resort community along the Lake Michigan shoreline, with some its busiest crowds seen during Independence Day weekend.
The Harbor County News reported that when asked about whether she'd return again next season to New Buffalo, Wolf replied, "Are you kidding me? We'll just go to some other city that wants us."
__________________________________________
Want to share your towing news?
Contact Us
or call 888-603-2599.