SmartLight Aimed At Lock-Outs
By: Erez Kanaan, Tow Squad News. Published on:
Subscribe in a reader
Attaches To Windshield For More Cabin Light
MIAMI, Flor. – Lock-outs can be a tricky matter, sometimes even in broad daylight. In poorly lit areas, or in the dead of night, they can become frustrating and time consuming.  A south Florida company that specializes in lock-out equipment has offered a great solution for towing professionals.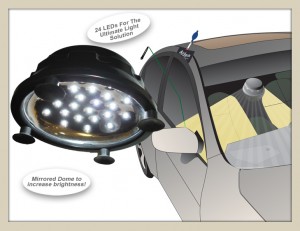 Access Tools developed their 'Smart Light' after hearing feedback about needing more light inside the vehicle cabin.  The design uses four suction cups to attach the device directly to the windshield, flooding the interior by 24-LED lights enhanced by its mirrored dome. 
The device is ideal for lock-outs, repo work or any job located in a poorly lit area.  It's more than powerful enough to penetrate even deeply tinted glass. 
At AccessTools, they build for durability knowing it will be needed out in the field. As part of their quality control testing, they found the Smart Light could survive a 25-ft. drop onto concrete.
The team at AccessTools has been innovating lock-out work since 1986, and have since grown into a 26,000-sq.-ft facility.  
The Smart Light is powered by four standard AA batteries, and lists for $34.95.  
Tow Squad is there when you need lock-out service.  Contact Tow Squad 24/7 and an expert car locksmith will unlock your car in no time.
 
__________________________________________
Want to share your own story?
Contact Us
or call 888-603-2599.